The hardest part of running a successful t-shirt business is getting it off the ground. This was a particular pain point for me. I was intimidated by the fine assembly of textile printing machines I'd see in other print shops. But, a voice deep inside asked me, "What unique service do I have to offer. After some soul searching, the answer was, "duh! Amazing graphic design and custom printing t-shirt services."
With that in mind, I got an inkjet printer and sublimation transfer papers and took two weeks off to create a portfolio for my clients. Eventually, I got to show people some digital samples. But that wasn't convincing enough to turn them into paying clients. So, I got a few blank t-shirts and bravely googled "alternatives to a heat press." The first thing that popped up was, "you can use an iron for heat transfer vinyl."
Have you ever heard a set of words that could change your life? Well, those words gave me a viable starting point. I made a few samples that wooed a particular client. The proceeds from this project were generous enough to allow me to get more tools, equipment, and even a sizable deposit into some prime office space.
Are you in the same predicament? Then please read on as I explain how the best iron for heat transfer vinyl can save your enterprise. I'll even throw in some of my personal favorites to help inform your next purchase.
What is Heat Transfer Vinyl?
Heat transfer vinyl goes by a couple of names. So when you see HTV, Iron-on vinyl, or t-shirt vinyl on a product label, it's all referring to the same material. HTV is a particular grade of polymer or vinyl that adheres to a surface upon applying heat and pressure over some time.
Please note that HTV differs from adhesive vinyl rolls or sheets. These materials are sticky from the time you unravel the matte back. The distinction comes from applying both heat and consistent pressure to activate the stronger adhesive bonds in heat transfer vinyl.
HTV also comes in rolls, sheets, or packets. You'll also notice a shiny front side and a dull matte backing on these products. The shiny layer is where we print and iron. The matte side is the area you'll cut or weed out as you stick the HTV to a t-shirt. It's also the area that contains the heat-activated glue that sticks to garments, ceramics, and other surfaces.
Can I Use an Iron for Heat Transfer Vinyl?
Sometimes, it's less complicated to use an iron than a heat press on heat transfers. I get more control over the process. And I don't have to give my clunky heat press machine 10 minutes to heat up. Household irons can heat up in less than 3 minutes!
I also have an overwhelming urge to peek into my t-shirt during the transfer process – An impossible feat while working a heat press machine. I can heat press vinyl and other materials with the cotton highest heat setting or the lowest linen on my iron: Anything between 300 and 315 degrees Fahrenheit works.
But, what to do if your household iron doesn't feature a temperature display can be a challenge. In that case, you can make the following settings if you have a digital thermometer at hand: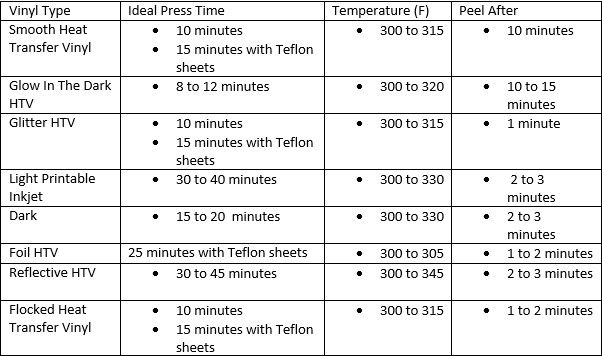 However, it is worth noting that a heat press does the job better. The broad surface, consistent heat, and temperature ensure you get it right every time. The results are so consistent that you get no flailed edges on HTV and other decals. Using an iron for heat transfer vinyl is not an exact science. You'll still need to experiment even if you're an experienced t-shirt customizer. As a result, you may waste a lot of vinyl and garments before you get it right.
What Kind of Iron Do You Use for Heat Transfer Vinyl?
One thing is clear after looking at the table in the previous section. Each type of vinyl adheres to a piece of fabric under a different amount of heat and pressure. So a high-quality iron comes highly recommended for the best results.
However, any plain old household iron box will do the trick. All you need is to follow the following unwritten rules of heat pressing with an iron:
Line the top of the design with a thin fabric like an old t-shirt, pillowcase, or Teflon sheets. You can also use a piece of wax-free parchment paper for similar results.
Keep the heat settings to high cotton or linen on the iron
Deactivate the steam option if it's available on your iron.
Insist on ironing the garment first to pre-heat the fabric and ward off any excess moisture.
You can place some aluminum foil inside the garment to help you reflect the heat. This is especially handy when working with robust materials like glow-in-the-dark HTV.
Place the fabric on a stable surface such as an ironing board, counter, or even your dining table. The goal here is not pressing by moving the iron around but applying consistent heat and temperature to a limited surface.
Also, ensure that each press is firm and deliberate. This helps you apply the correct amount of heat and pressure over a time range that will activate and bind the glues to the fabrics. If a design is extensive, you can press one section before moving to the next.
NB: Small, firm, and consistent iron presses will do the trick. So avoid the temptation of moving the iron box around the garment. Such a move will only achieve heating and cooling of the HTV instead of binding it to the threads of your t-shirt.
7 Best Irons for Heat Transfer Vinyl Reviews
Let's kick off the list in style with the purposely built Cricut EasyPress Mini Heat Press Machine. Technically speaking, it's a heat press, but ironing clothes with this machine wouldn't be considered abuse. The advanced LDC display is the first feature that brings glee to the eye.
It's so convenient to use that it even displays temperature in both Celsius & Fahrenheit –That's the way to kick it in both metric and imperial!
ALTHERIA has also added a spacious carrying case for the machine and related accessories. This hardshell case is waterproof, dust resistant, and padded for extra protection. The EasyPress doesn't feature an on/off switch, so you merely plug it into a socket. And it takes only 2 minutes to go from ice-cold to piping hot.
The Cricut EasyPress Mini Heat Press Machine comes with FCC & UL certification, so rest assured as you use it to make custom t-shirts at home or in your workplace.
Next on our list, we have a product that won't leak, steam like a champ, and heat up on the fly. The PurSteam professional-grade iron has sleek curves and the right heft to it. These factors combine to culminate in the ultimate replacement for a standard heat press machine.
I'm used to working heat presses, so the automatic cut-off feature is a blessing to me. Otherwise, I'd imagine burning up a huge electric bill at the end of the month. Another reason I put this quality American-made machine on my list is its sauna-like steam production utility. It ensures you get your garments to the client looking "photoshoot fresh."
You can also go from 0 to 315 degrees Fahrenheit in 2 minutes or less. With such power in your hands, you can heat press any piece of vinyl into submission!
Satisfy your craving for German engineering with BLACK+DECKER Digital Advantage Professional Steam Iron. This iron box may be small for a professional laundromat because of a relatively small soleplate. However, this plays an advantage when it comes to heat pressing t-shirts.
The clear-view LCD makes it easier to lock in on the proper heat settings for a particular heat transfer vinyl. And it can still work creases out of a pair of denim or a leather jacket. Black + Decker has also worked an easy glide soleplate to the mix. So you needn't worry about it getting stuck to the fabric after long periods of contact.
Despite the budget-friendly price tag, I'm also impressed with its superior built quality. After reviewing this product, the only regret I have is that Black + Decker doesn't make standard heat presses. If they did, I'd definitely break the bank on one!
The Rowenta Everlast Anti-Calc Iron is another quality German machine that hit the market with 5-star reviews and massive sales volumes on amazon. And that's something you feel in the balanced heft when you pick it up – I kid you not!
Another reviewer was quick to point at less water seepage when compared to a legacy model. That represents innovation from a manufacturer that listens to its customers. The only thing smoother than this machine's heat-up cycle is how smoothly it glides even at the highest temperature.
Sure, it's a little on the pricier side of the graph. But, it's worth it because you won't need to take your finished garments out for ironing or steaming. You can pass on such savings towards other capital or recurrent expenditure areas in your t-shirt business.
Next, we have the flattest and probably most suitable household iron on the list. The CHI Titanium Infused Ceramic Soleplate Iron is something that you'll enjoy using even after getting a dedicated heat press machine. This non-stick iron even has features that rival premium products on our list, such as the Rowenta Everlast.
It's easy to fill or empty the tank, and the steam settings are also not complicated. They've also added a tangle-free retractable cord that doesn't get in the way as you work. As for the titanium-infused ceramic soleplate? Well, it works as promised – it glides effortlessly across even sticky fabrics like spandex, so feel free to heat press on any fabric.
I'd be remiss if I didn't talk up the titanium soleplate more. This expert piece of engineering consists of 400 holes for optimal heat and steam distribution across the surface of a garment. It also makes the iron box easier to clear, especially after you ruin a piece of garment.
The Mueller professional-grade steam iron is a lean and means anti-creasing machine. This lightweight household iron features a large heel towards the edge. This prevents the machine from tipping over, but it also gives it the right profile for heat pressing garments.
A self-cleaning plate ensures the soleplate remains in pristine condition despite your housekeeping misadventures. The manufacturers also gave it a trim profile, which helps eliminate creases from those hard-to-reach trouble spots.
Other features that make this Mueller model a crafter's delight include a 3-way shut-off system for the forgetful ones among us. It also comes with proprietary scotch control technology to make the soleplate more conducive to tactile microfibers and light synthetic fabrics.
Sometimes good things such as the Sunbeam Hot-2-Trot Compact Non-Stick Travel Iron come in small packages. But, no task is too big for this beauty from a travel iron perspective. It features a DC (direct current) power option. This means you can power it with batteries and deploy it in a mobile or outdoor heat press setup.
I've owned a few travel irons, but they broke the mold when they made this one. The soft grippy handle and all-around heat insulation keep your hands safe as you work and ensure optimal heat distribution through the soleplate.
The Sunbeam Hot-2-Trot Compact Non-Stick Travel Iron has virtually no impact on your storage space. It's so tiny you can stow it anywhere!
Things to Consider When Buying an Iron for Heat Transfer
You can use a lot of other factors to settle on the ideal iron for heat transfer besides the cost. Such a cost-to-benefit analysis may seem pointless. But, as you can see from the list, the cost of a product doesn't attest to its built quality, durability, or suitability to the task.
So here are some benchmarks that you to inform your purchase of the best iron for heat transfers:
Brand
For some, a brand name is hype. But, for the overwhelming majority, it's about the innovation that leads to a product line's longevity. Most brand-name products on this list, like Black + Decker, are indeed the best in class. They lead through innovation and responding to the needs of the market.
Opting for a product from a famous brand also ensures you get a durable iron. Besides, you can't depend on the same response from a knock-off brand.
The Mechanics
The mechanics of iron go beyond the in-built features. It's also about the way an iron feels in your hand. Is it balanced? Or does it lean unevenly to one side? These are questions manufacturers anticipate when coming up with their products.
The best way to confirm such information is to hold the iron in your hands and get a feel. Sadly, this is not possible when shopping online. But, you can also use your eyes to judge photos and videos of the iron at rest or work. User reviews are also dependable sources of first-hand information that you can trust because they come from customers who've field-tested the product.
Features
A functional iron consists of a few essential components like the soleplate, thermostat, and insulation. However, manufacturers always add special features or mechanisms, e.g., the steam system. Others may include using unique materials like titanium-infused ceramics to improve the iron's quality and durability.
There's no formula for determining what features you should opt for. So, it's totally up to you to pick something that makes you content with your purchase.
Price
As I've said plenty of times before, "price is never a deal-breaker when it comes to an item that will improve my business' service delivery." However, sometimes we are forced to adjust to reality, and tightening the budget helps keep the focus on what matters.
Before committing to a purchase, start by looking at how it will affect your business trajectory, whether negatively or positively. Next, you can look at the features and compare them to some rival brands. If you have no doubts about your choice after such a cost-to-benefit analysis, then you can go ahead.
FAQs
1. Can you use regular iron for iron-on vinyl?
While using a heat press is easier and more convenient, you can still use an iron to apply heat transfers. However, it may take a little ingenuity to hang things.
2. What can you use instead of iron for heat transfer?
The only safe way to apply heat transfer vinyl besides an iron box is a heat press machine.
3. Can you iron on permanent vinyl?
Sure, you can, especially when in a pinch. However, a heat press machine is a better choice because of the uniform heat and pressure it delivers.
Conclusion
Experimenting by using unconventional tools to achieve something led to all these modern-day devices that we take for granted. The same can be said about using an iron box for heat transfers.
Sure, it may look like a waste of time because heat presses exist. But, art is not only about the tools but how the creator handles them. It's in the subtle things you add or remove from the process. I'll leave you with that as food for thought. Hopefully, I'll see you in the next article as we continue to explore the intrigues of the multi-billion custom t-shirt industry.
Was this article helpful to you?
Your feedback will help us improve further content. Thank you for your time.
Last update on 2022-12-07 / Affiliate links / Images from Amazon Product Advertising API. Disclaimer